Ways of Following: Art, Materiality, Collaboration
by Katve-Kaisa Kontturi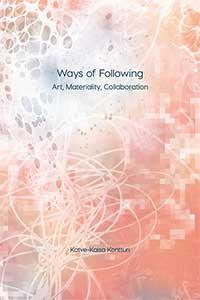 Published: 2018
Print ISBN: 978-1-78542-059-7
PDF ISBN: 978-1-78542-060-3
In Ways of Following, Katve-Kaisa Kontturi offers rare, intimate access to artists' studios and exhibitions, where art processes thrive in their material-relational becoming. The book argues for an ethical and affirmative mode of engaging with contemporary art that replaces critical distance with sensuous and transformative proximity. From writing-with to dancing and breathing, from conversations to modelling, it maps ways of following that make the moving materiality of art intensively felt. Drawing on long-term engagements with selected contemporary artists and their art-in-process, Kontturi expands the concept and practice of collaboration from human interactions to working with, and between, materials. With this shift, Ways of Following radically rethinks such core tenets of art theory as intention, artistic influences and the autonomy of art, bringing new urgency to the work of art and its political capacity to propose new ways of being and thinking.
Ways of Following is an eloquent expression of the vibrancy of art and its unfolding as a material politics and poetics. Here we encounter art as it moves in future perfect, and moves us toward precarious futures of thinking and making otherwise. The beauty of this book is that it leads us on this journey through close and careful attention to material specificity, never losing sight that ethics and politics are embedded and embodied with/in aesthetics, and that our following is compelled by the visceral resonance of our entanglement with/in the world.

Marsha Meskimmon, Loughborough University
Even the stillest of images contains a world of dynamics. Deep breaths, dance, and vibrations are among the many movements of the body in Katve-Kaisa Kontturi's rich and joyful take on visual culture and feminist art making. Ways of Following is warmly recommended to anyone wanting to learn how new materialism of the arts can function as a methodology.

Jussi Parikka, University of Southampton
Ways of Following is an exquisitely composed inquiry into what art can do. Its pages breathe and shimmer with insights about the movement of art; how contemporary art is not a static object (a thing made) but a vital flow of emerging relations. This extraordinary and generous book of research-creation is essential reading for anyone seeking to engage with feminist new materialisms, affect theory, process philosophy, and an ethical-political engagement with the productive quality of the art event.

Stephanie Springgay, University of Toronto
Author Bio
Katve-Kaisa Kontturi is a Senior Lecturer in Art History and Adjunct Professor in Contemporary Art Studies at The University of Turku, Finland, as well as an Honorary Fellow at the Victorian College of the Arts, The University of Melbourne.