Tocqueville and Democracy in the Internet Age
edited by C. Jon Delogu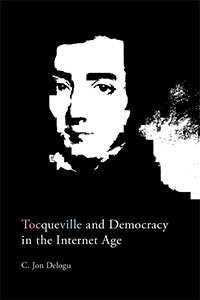 Published: 2014
ISBN: 978-1-78542-008-5
PDF ISBN: 978-1-78542-000-9
Tocqueville and Democracy in the Internet Age is an introduction to Alexis de Tocqueville (1805-1859) and his monumental two-volume study Democracy in America (1835, 1840) that pays particular attention to the critical conversation around Tocqueville and contemporary democracy. It attempts to help us think better about democracy, and also perhaps to live better, in the Internet Age.
"Jon Delogu's Tocqueville and Democracy in the Internet Age astutely connects many of the current issues surrounding the present and possible future states of "democracy" in the U.S., France, and the world. The author not only makes a convincing case for the relevance of Toqueville and democracy in the 'Internet age' but also demonstrates a command of Democracy in America and the enormous body of criticism and commentary on it."

William Dow – Professor of American Literature and American Studies, American University of Paris, Université Paris-Est MLV
Editor Bio
C. Jon Delogu is currently Professeur des Universités in the Department of English at the Université Jean Moulin, Lyon 3 in France. He is the author of Ralph Waldo Emerson, une introduction (2006) and translator of several books including Georges Vigarello's The Metamorphoses of Fat: A History of Obesity (2013), Michel Chion's Film, a Sound Art (with Claudia Gorbman, 2009), Jean Starobinski's Enchantment: The Seductress in Opera (2008) and Emmanuel Todd's After the Empire: The Breakdown of the American Order (2003).