The First Sail: J. Hillis Miller
edited by Dragan Kujundžić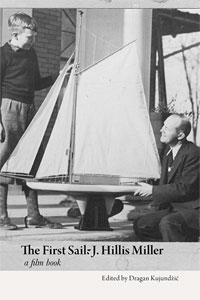 Published: 2015
ISBN: 978-1-78542-003-0
The film-book The First Sail: J. Hillis Miller is based on the documentary film of the same name made in 2010. The political, academic and environmental contexts surrounding this film since its release prove with more and more urgency the need to read and listen to J. Hillis Miller, and would require revisiting everything that has been said and seen.
Together with the film transcript and an interview with Miller conducted by Taryn Devereux, the essays in this volume have been gathered from several international events devoted to Miller's works. With essays by Henry Sussman, Sarah Dillon, Charlie Gere, Nicholas Royle, Éamonn Dunne and Michael O'Rourke, Dragan Kujundžić, Julian Wolfreys and J. Hillis Miller, The First Sail in itself thus forms a vast network of references, operating as an installation and network of emerging projects.
Editor Bio
Dragan Kujundžić is a Professor of Jewish, Germanic and Slavic Studies, and Film and Media Studies at the University of Florida. He is the author of numerous articles in critical theory, deconstruction and literary criticism. He has edited Deconstruction, A Merry Science (1985), "Khoraographies for Jacques Derrida on July 15, 2000" (2000), Who or What—Jacques Derrida (2008) and two volumes on J. Hillis Miller, J (2005) and Provocations to Reading (2005). His other publications include monographs Critical Exercises (1983), The Returns of History (1997) and Tongue in Heat (2003). He has also edited volumes on Walter Benjamin, Mikhail Bakhtin and Samuel Weber. He is currently working on the new monograph, Ghost Scriptum. His other documentary film, Frozen Time, Liquid Memories (2011), about the Holocaust in Serbia and France, has been screened in Europe and the United States and had conferences held about it (Dublin, Ireland).