Remixing Persona: An Imaginary Digital Media Object from the Onto-Tales of the Digital Afterlife
by Mark Amerika and Laura Kim (MALK)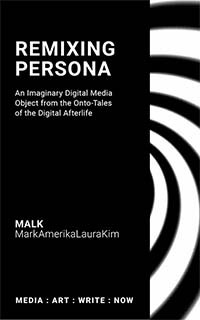 Published: 2019
ISBN: None
PDF ISBN: 978-1-78542-083-2
Remixing Persona: An Imaginary Digital Media Object from the Onto-Tales of the Digital Afterlife is comprised of two components: a visual manifesto that doubles as a theoretical e-reader and a work of music video art. In building this project, the artists collaboratively investigate persona-making, performance-thinking, and applied remixology. Playfully presenting their research as an intergenerational and intercultural 'research band' named MALK (Mark Amerika / Laura Kim), both artists, individually and as a performance duo, bring their own unique experiences and ontologically filtered 'ways of remixing' to their intermedia art, writing and performance practice.
The research questions the artists initially presented to themselves were unconventional: 'Who am I this time?' 'What does it mean to share a sense of humor?' 'What is an otherworldly aesthetic sensibility?' The artists were not interested in coming up with answers per se, but in using their artist skills to deploy both intuitive and improvisational performances that would generate a set of primary source material to remix into their creative project. This was when they decided to form MALK and began creating the Digital Afterlife music video artwork as a conceptual tool to investigate persona-making as a meta-practice. The culminating field of recombinatory expression that informs the production of this imaginary digital media object is an inversion of their practice-based research conducted in the TECHNE Lab at the University of Colorado.
Click here to watch the video on vimeo
What remains after the death of the author? MALK (Mark Amerika + Laura Kim) plays the role of post-modern Beatrice, guiding readers/viewers through a revealing (mis)adventure in the digital afterlife where what had been called 'artist' now becomes a remixed/remixing persona in the infernal networks of recirculated big data.

David J. Gunkel, Northern Illinois University

Monty Python meets Brian O'Blivion meets Max Headroom meets The Matrix, in this self-consciously retro, strikingly frivolous, and remarkably irreverent experiment in the future of the book. And boy can they dance! So let's join them, and party like it's nineteen ninety, all over again!

Marquard Smith, University College London and Vilnius Academy of Art

MALK's collaboration explores the importance of the persona as a fluid concept, a method, a practice and a form of becoming in and through today's remix culture. It also re-configures the visual essay for a post-authorial video art era. Transform yourself and travel with them to another dimension: The Digital Afterlife!

Janneke Adema, Centre for Postdigital Cultures, Coventry University

Part remix manifesto, part pop phenomenology of Mark Amerika and Laura Kim's shared intermedial subject, Remixing Persona and its accompanying music video Digital Afterlife suck their audience across the event-horizon of a purposefully mashed-up theory/media metaphor. The resultant singularity – forged from the collapse of superheated YouTube, Geocities, and Tumblr matter – swirls with poetic potential. You might not emerge from the other side unscathed.

Daniel Rourke, Goldsmiths, University of London

Author Bio

Mark Amerika is a University of Colorado Boulder Professor of Distinction where he is the Founding Director of the Doctoral Program in Intermedia Art, Writing and Performance in the College of Media, Communication and Information and a Professor of Art and Art History. Amerika, who in 2001 was selected as a Time Magazine 100 Innovator, has exhibited his artwork internationally at venues such as the Whitney Biennial of American Art, the Denver Art Museum, the Institute of Contemporary Arts in London, and the Walker Art Center. In 2009-2010, The National Museum of Contemporary Art in Athens, Greece, hosted Amerika's comprehensive retrospective exhibition entitled UNREALTIME. In 2009, Amerika released Immobilité, generally considered the first feature-length art film ever shot on a mobile phone. He is the author of many books including remixthebook (University of Minnesota Press), META/DATA: A Digital Poetics (The MIT Press), remixthecontext (Routledge) and Locus Solus: An Inappropriate Translation Composed in a 21st Century Manner (Counterpath Press). His expansive transmedia artwork, Museum of Glitch Aesthetics, was commissioned by the Abandon Normal Devices Festival in conjunction with the London 2012 Olympics. The project has been remixed by curators for physical exhibitions, including Amerika's exhibitions 'Museum of Glitch Aesthetics' at the AND Festival, 'Glitch. Click. Thunk' at the University of Hawaii Art Galleries and 'GlitchMix: not an error' in Havana, Cuba.

Laura Hyunjhee Kim is a multimedia artist who contemplates and reimagines digitally constructed on/offline (non)human experiences. Thinking through making, she performs moments of incomprehension: when language loses its coherence, necessitates absurd leaps in logic, and reroutes into intuitive and improvisational sense-making forms of expression. Her current practice-based research projects explore emerging consumer grade technologies and their influence on human and (non)human interactions and feelosophical experiences of the body. Kim has shown work in numerous on/offline exhibition spaces, screenings, and festivals around the world. She received the inaugural ArtSlant Award in New Media (2013) and was one of the first artists-in-residence at the Internet Archive (2017). In 2019, Kim received the New Media Caucus Distinguished Scholar Award and published Entering the Blobosphere: A Musing on Blobs with The Accomplices / Civil Coping Mechanisms. She is a Ph.D. Candidate in Intermedia Art, Writing and Performance (IAWP) at the University of Colorado Boulder.