Photomediations: A Reader
edited by Kamila Kuc and Joanna Zylinska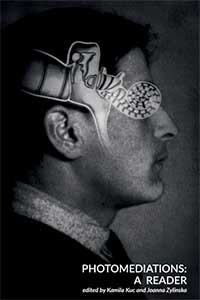 Published: 2016
Print ISBN: 978-1-78542-002-3
PDF ISBN: 978-1-78542-020-7
Photomediations: A Reader offers a radically different way of understanding photography. The concept of photomediations that unites the twenty scholarly and curatorial essays collected here cuts across the traditional classification of photography as suspended between art and social practice in order to capture the dynamism of the photographic medium today. It also explores photography's kinship with other media – and with us, humans, as media.
The term 'photomediations' brings together the hybrid ontology of 'photomedia' and the fluid dynamism of 'mediation'. The framework of photomediations adopts a process- and time-based approach to images by tracing the technological, biological, cultural, social and political flows of data that produce photographic objects.
Photomediations: A Reader is part of a larger editorial and curatorial project called Photomediations: An Open Book, whose goal is to redesign a coffee-table book as an online experience. A version of this Reader also exists online in an open 'living' format, which means it can be altered, added to, mashed-up, re-versioned and customized. The Reader is published in collaboration with Europeana Space, and in association with Jonathan Shaw, Ross Varney and Michael Wamposzyc.
Editor Bios
Kamila Kuc is Postdoctoral Research Assistant in the Department of Media and Communications at Goldsmiths, University of London. She is also a curator and an experimental filmmaker. Co-editor (with Michael O'Pray) of The Struggle for Form: Perspectives on Polish Avant-Garde Film 1916-1989 (2014), Kuc has curated programmes of experimental film for international film festivals and venues (New Horizons Film Festival, Poland; Experiments in Cinema, US). Her short films have been screened widely.
Joanna Zylinska is Professor of New Media and Communications at Goldsmiths, University of London. The author of five books—most recently, Minimal Ethics for the Anthropocene (2014); Life after New Media: Mediation as a Vital Process (with Sarah Kember, 2012) and Bioethics in the Age of New Media (2009)—she is also a translator of Stanislaw Lem's major philosophical treatise, Summa Technologiae (2013). Zylinska is one of the Editors of Culture Machine, an international open-access journal of culture and theory, and a curator of its sister project, Photomediations Machine. She combines her philosophical writings and curatorial work with photographic art practice.