La magie réaliste: objets, ontologie et causalité
par Timothy Morton
Traduction de Arthur Duhé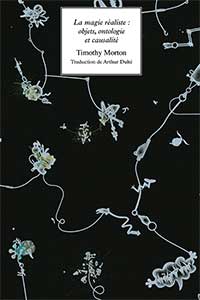 Publié: 2021
ISBN: 978-1-78542-078-8
PDF ISBN: 978-1-78542-077-1
Dans cet ouvrage, Timothy Morton, écologiste de premier ordre, critique littéraire et philosophe orienté vers l'objet nous entraîne dans une nuit magique des objets. Si les choses sont intrinsèquement en retrait, irréductibles à leur perception, à leurs relations, ou à leurs usages, elles peuvent seulement s'affecter les unes les autres dans une étrange région de traces et d'empreintes : la dimension esthétique. Tout objet scintille dans l'absence. Les choses sensibles sont des élégies à la disparition des objets. Est-ce cela ne nous dit pas quelque chose de la dimension esthétique, à savoir pourquoi les philosophes l'ont souvent considérée comme le royaume du mal?
Also available in English
También disponible en espanol
Biographie de l'auteur
Timothy Morton est titulaire de la chaire Rita Shea Guffey en anglais à l'Université Rice. Ils sont les auteurs de Being Ecological (Penguin, 2018), Humankind: Solidarity with Nonhuman People (Verso, 2017), Dark Ecology: For a Logic of Future Coexistence (Columbia, 2016), Nothing: Three Inquiries in Buddhism (Chicago, 2015), Hyperobjects: Philosophy and Ecology after the End of the World (Minnesota, 2013), entre autres, ainsi que quatre-vingts articles sur la philosophie, l'écologie, la littérature, l'alimentation et la musique. Voir leur blog: Ecology Without Nature.
Traducteur
Arthur Duhé, ancien élève de l'École Normale Supérieure de la rue d'Ulm (Paris), est diplômé de l'Université d'Oxford et chercheur en relations internationales et théorie politique.
La conception de la collection
La conception de la collection Nouvelle métaphysique a été réalisée par Katherine Gillieson avec des illustrations de Tammy Lu.