In Catastrophic Times: Resisting the Coming Barbarism
by Isabelle Stengers
Translated by Andrew Goffey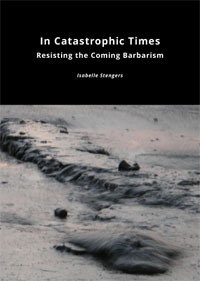 Published: 2015
ISBN: 978-1-60785-009-2
PDF ISBN: 978-1-78542-010-8
Epub ISBN: 978-1-78542-022-1
There has been an epochal shift: the possibility of a global climate crisis is now upon us. Pollution, the poison of pesticides, the exhaustion of natural resources, falling water tables, growing social inequalities – these are all problems that can no longer be treated separately.
The effects of global warming have a cumulative impact, and it is not a matter of a crisis that will "pass" before everything goes back to "normal." Our governments are totally incapable of dealing with the situation. Economic warfare obliges them to stick to the goal of irresponsible, even criminal, economic growth, whatever the cost. It is no surprise that people were so struck by the catastrophe in New Orleans. The response of the authorities – to abandon the poor whilst the rich were able to take shelter – is a symbol of the coming barbarism.
Author Bio
Isabelle Stengers is professor of philosophy at the Université Libre de Bruxelles. She is trained as a chemist and philosopher, and has authored and co-authored many books on the philosophy of science. In 1993 she received the grand prize for philosophy from the Académie Francaise. Her last book published in English is Thinking with Whitehead: A Free and Wild Creation of Concepts (Cambridge, MA: Harvard University Press, 2014).
Andrew Goffey is Associate Professor in Critical Theory and Cultural Studies at the University of Nottingham.