Glitch Poetics
by Nathan Allen Jones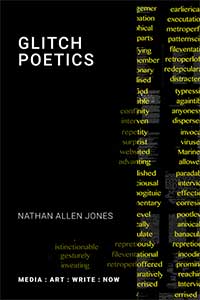 Published: 2022
ISBN: 978-1-78542-114-3
PDF ISBN: 978-1-78542-113-6
Glitches are errors where the digital bursts or creeps into our everyday lives as fragmented image, garbled text and aberrant event. Today, when computational technology is integrated ever more closely into bodies and social structures, glitches are considered by artists and companies alike as critical and commercial opportunities, revealing tears in the real-virtual binary. Glitch has also increasingly become a metaphor for understanding the political and ecological shocks the world pushes into the mediasphere each day. In Glitch Poetics Nathan Jones shows how contemporary writers and artists are integrating the glitch as a literary effect, an affective critique and a realist reflection, at a time characterised by breakage, corruption and crisis.
Based on a range of close readings of contemporary literature by writers including Linda Stupart, Sam Riviere, Keston Sutherland, Ben Lerner, Caroline Bergvall, Erica Scourti, David Peace and the internet novelists, and drawing on theories of error, shock, glitch, critical posthumanism and code, Jones lays the groundwork for writing that can productively engage in the new situation for literature in the context of AI, the Anthropocene and the post-digital age. His book articulates the working of error in literary and media practice at the horizon of human and machine language.
Glitch Poetics resists technofuturism, reinventing errancy as a necessary aesthetic value of (and crucially against) our time.

Charles Bernstein, Professor Emeritus, University of Pennsylvania.

So, body-machinic posthuman reader, consider the shock to your system(s) when a glitch-error interrupts the coding-decoding mechanisms that govern your operations. Disruption to the textual condition occurs as voice misrecognition and cycles of translation malform and corrupt the poetics of authorial production. The desire for ideological resistance may or may not be short-circuited by the predictive algorithm manifest in remediating performance and its disruption of literary habits. The old attachment to tactical intervention remains, an aspiration still making its way through the charged circuits of culture, looking for a way to break down the rule-governed barriers between aspiration and effective agency. The pathetic subroutines, often destined to crash, derive from provisional looping of interference patterns that constantly reorder our codified reality. In Glitch Poetics Jones selects vivid examples of the ways the glitch can be used deliberately to produce an uncomfortable intervention in the current conditions of posthuman capitalist culture. Or can it? Read and decide, based on your own bodily-machinic receptivity to 'technological timings' and 'leaky intrusions' across the 'creepy porousness' of your boundaries.

Johanna Drucker, Breslauer Professor of Bibliographical Studies and Distinguished Professor in the Department of Information Studies, UCLA.

Glitch Poetics figures glitch radically as a key aesthetic condition of the contemporary moment. A powerful exploration of how glitch works across writing, art and bodies, it reconfigures our understanding of technology as an aesthetic force that structures our world.

Olga Goriunova, Professor of Media, Royal Holloway University of London.

Download Nathan Jones' book of poems: On the Point of Tearing and Disintegrating Uncontrollably.

Author Bio

Nathan Allen Jones is Lecturer in Fine Art (Digital Media) at Lancaster University. Exploring the dynamic relationship between the newest media, language and the art discourse, he has written and made artworks about unicode, blockchain, speed readers and peer-to-peer networks. He is also a co-founder (with Sam Skinner) of Torque Editions, whose publications include Artists Re:Thinking the Blockchain (2017) and The Act of Reading (2015), and exhibitions with Tate, Furtherfield and FACT, Liverpool.