Fabricating Publics: The Dissemination of Culture in the Post-truth Era
edited by Bill Balaskas and Carolina Rito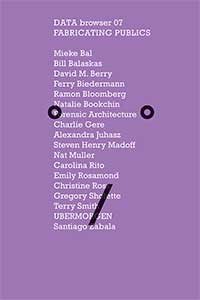 Published: 2021
ISBN: 978-1-78542-105-1
PDF ISBN: 978-1-78542-104-4
This book explores how cultural practitioners and institutions perceive their role in the post-truth era, by repositioning their work in relation to the notion of the "public". The book addresses the multiple challenges posed for artists, curators and cultural activists by the conditions of post-factuality: Do cultural institutions have the practical means and the ethical authority to fight against the proliferation of "alternative facts" in politics, as well as within all aspects of our lives? What narratives of dissent are cultural practitioners developing, and how do they choose to communicate them? Could new media technologies still be considered as instruments of democratizing culture, or have they been irrevocably associated with 'empty' populism? Do "counter-publics" exist and, if yes, how are they formed? In the end, is "truth" a notion that could be reclaimed through contemporary culture? With contributions by Charlie Gere, Christine Ross, David M. Berry, Emily Rosamond, Forensic Architecture, Gregory Sholette, Mieke Bal, Nat Muller, Ferry Biedermann, Natalie Bookchin, Alexandra Juhasz, Ramon Bloomberg, Santiago Zabala, Steven Henry Madoff, Terry Smith, and UBERMORGEN.
Available for purchase worldwide through most online bookstores including Book Depository.
Fabricating Publics brings together artists, activists, writers, journalists, curators and researchers who have been working actively with the notion of truth. In a historical phase in which the boundaries between what is true and false become opaque, leaving space for the proliferation of misinformation phenomena, fake news and conspiracy theories, the book provides a timely analysis on the conditions of post-factuality both theoretically and practically. The collection of writings aims to question the concept of post-truth and investigate the structural aspect of this debate, by analysing concretely tactics and strategies of producing public awareness and constructive dissent.

Tatiana Bazzichelli, Artistic Director & Curator, Disruption Network Lab, Berlin

In an era of post-truth, in which fake news and alternative facts have become political realities, this book asks one crucial and central question for all of us; is truth a notion that could be reclaimed through contemporary culture.? The answers given by these essays are varied and complex, but unanimous in arguing that art, media and culture have a crucial and critical role to play in upholding and defending democratic civil liberties and the public realm. This book is significant in extending a long and important tradition of understanding culture as common and shared ways of living in which politics are embedded in the practices of everyday life. This book needs to be widely read and discussed because it confronts the current authoritarian dimensions of neo-liberal thinking and its enabling infrastructures. The essays illuminate critical ways of rethinking truth as well as illustrating a range of tactical and practical responses. An excellent contribution to upholding cultural democracy.

Andrew Dewdney, Professor of Educational Development, London South Bank University

Editor Bios

Bill Balaskas is an artist, theorist, and educator, whose research is located at the intersection of politics, digital media, and contemporary visual culture. He is an Associate Professor and Director of Research, Business and Innovation at the School of Art and Architecture of Kingston University, London. His work has been widely exhibited in the UK and internationally. He has received awards and grants from the European Investment Bank Institute; Comité International d'Histoire de l'Art (CIHA); Open Society Foundations; European Cultural Foundation; the Australian National University; and the Association for Art History (UK), amongst others. He is Editor of the Leonardo Electronic Almanac (MIT Press), co-editor of Institution as Praxis – New Curatorial Directions for Collaborative Research (Sternberg Press, 2020), and of Architectures of Education (e-flux Architecture, 2020). Originally trained as an economist, he holds a PhD in Critical Writing in Art and Design from the Royal College of Art, London.

Carolina Rito is Professor of Creative Practice Research, at the Research Centre for Arts, Memory and Communities (CAMC), Coventry University, UK, and lead of the Critical Practices research strand. She is a researcher and curator whose work explores 'the curatorial' as an investigative practice, expanding practice-based research in the fields of curating, visual cultures, and cultural studies. Rito is Executive Board Member of the Midlands Higher Education & Culture Forum (MHECF); Research Fellow at the Institute of Contemporary History, Universidade NOVA Lisboa; Founding Editor of The Contemporary Journal; and Chair of the Collaborative Research Working Group for the MHECF. Rito is the co-editor of Institution as Praxis – New Curatorial Directions for Collaborative Research (Sternberg Press, 2020); Architectures of Education (e-flux Architecture, 2020); and editor of the "On Translations" and "Critical Pedagogies" issues (The Contemporary Journal, 2018–2020). From 2017 to 2019, she was Head of Public Programmes and Research at Nottingham Contemporary. She holds a PhD in Curatorial/Knowledge from Goldsmiths, University of London.