AI Art: Machine Visions and Warped Dreams
by Joanna Zylinska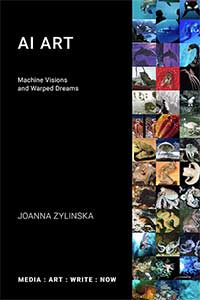 Published: 2020
ISBN: 978-1-78542-086-3
PDF ISBN: 978-1-78542-085-6
Can computers be creative? Is algorithmic art just a form of Candy Crush? Cutting through the smoke and mirrors surrounding computation, robotics and artificial intelligence, Joanna Zylinska argues that, to understand the promise of AI for the creative fields, we must not confine ourselves solely to the realm of aesthetics. Instead, we need to address the role and position of the human in the current technical setup – including the associated issues of labour, robotisation and, last but not least, extinction. Offering a critique of the socio-political underpinnings of AI, AI Art: Machine Visions and Warped Dreams raises poignant questions about the conditions of art making and creativity today.
The book critically examines artworks that use AI, be it in the form of visual style transfer, algorithmic experiment or critical commentary. It also engages with their predecessors, including robotic art and net art. AI Art includes a project from Zylinska's own art practice titled 'View from the Window', which explores human and nonhuman forms of intelligence, perception and action. The book closes with speculation on future art – and on art's future.
Joanna Zylinska's new book shows why the question about AI and art should start with a much richer understanding of art than, as in most popular cultural discourses, in wondering whether a machine might be creative. An investigation into the conceptual, discursive and technological features of art in a historical perspective also implies asking what sorts of expectations of authorship have been pre-installed into our assumptions in the first place. This lucid book gives wonderful answers, updated questions as well as methodological suggestions. Machine-learning humans need to be better trained through datasets of cultural theory and history!

Professor Jussi Parikka, University of Southampton and FAMU, Prague

Zylinska's newest book inscribes AI art into a vibrant media ecology, while deftly engaging pressing aesthetic and socio-political concerns. This provocative book asks us to question not only so-called machinic creativity but also, crucially, creativity in humans.

Professor Kate Mondloch, University of Oregon

As 'humanity' is universally (yet unevenly) wading through species-level predicaments, while the future itself dries up at the mercy of AI solutions across the board, Joanna Zylinska argues that only creativity will save us. But AI discourse – myopically masculinist, warped and failing, hydrophobic and reprehensibly insensitive to the ecological crisis – needs to be better. This is the message of AI Art. Critiquing disturbing expressions of 'neurototalitarian' existence in insipid and mindless generative AI art – in the service of PR, for 'fun' and bemusement – Zylinska argues for embracing the potential for true transformational creativity through machines, offering an ethico-political opening towards the unknown, and toward other forms of intelligence. Zylinska's brave intervention ultimately exemplifies precisely what we crave today: nuanced, intelligent and creative perspectives on these developments from within the humanities which may prompt designers to envisage AI systems aligned with the existential need to reorient ourselves in terrains of shared technological and ecological emergency, and to thereby look toward an open, inclusive and sustainable future as we become human with machines.

Associate Professor Amanda Lagerkvist, Uppsala University

Author Bio

Joanna Zylinska is a writer, lecturer, artist, curator, and – according to the ImageNet Roulette's algorithm – a 'mediatrix'. She is currently Professor of New Media and Communications at Goldsmiths, University of London. The author of a number of books on art, philosophy and technology – including The End of Man: A Feminist Counterapocalypse (University of Minnesota Press, 2018), Nonhuman Photography (MIT Press, 2017) and Minimal Ethics for the Anthropocene (Open Humanities Press, 2014) – she is also involved in more experimental and collaborative publishing projects, such as Photomediations (2016). Her own art practice engages with different kinds of image-based media.