after.video
edited by Oliver Lerone Schultz, Adnan Hadzi, Pablo de Soto and Laila Shereen Sakr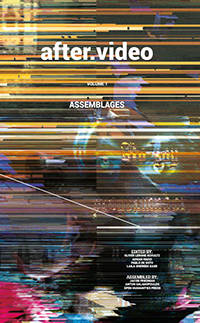 Published: 2017
ISBN: None
Theorising a World of Video, after.video realizes the world through moving images and reassembles theory after video. Extending the formats of 'theory', it reflects a new situation in which world and video have grown together.
This is an edited collection of assembled and annotated video essays living in two instantiations: an online version – located on the web at http://after.video/assemblages, and an offline version – stored on a server inside a VHS (Video Home System) case. This is both a digital and analog object: manifested, in a scholarly gesture, as a 'video book'.
We hope that different tribes — from DIY hackercamps and medialabs, to unsatisfied academic visionaries, avantgarde-mesh-videographers and independent media collectives, even iTV and home-cinema addicted sofasurfers — will cherish this contribution to an ever more fragmented, ever more colorful spectrum of video-culture, consumption and appropriation…
Table of Contents
Clare Birchall + Gary Hall + Peter Woodbridge: Control Societies
Karin + Shane Denson: Scannable images: materialities of Post-Cinema after Video
Rózsa Zita Farkas: The Crying Selfie
Deborah Ligotrio: Guided Meditation
Lucia Egaña Rojas: Contingent Feminist Tactics for Working with Machines
Eric Kiuitenberg: Capturing the Ephemeral and Contestational
Adnan Hadzi: Surveillance Assemblies
Andreas Treske: You Spin me Round – Full Circle
Endorsements
"Video was invented to observe and record. It escaped into the streets in 1968. Everywhere in chains, everywhere running free. Cursed with ubiquity, blessed with ephemerality, analog video was the true precursor of contemporary culture, and still abides by the profound contradictions of indifferent surveillance and significations that make a difference. After.video works at the faultline to produce meaning again from the meaningless mass of compulsory image-making.

Sean Cubitt, Professor of Film and Television and co-Head of Department of Media and Communications, Goldsmiths, University of London

"The launch of After.Video is a reason to celebrate for everyone engaged with the challenges of thinking through images. Academia is still in great need of platforms able to accommodate the possibilities of visual media as critical discourse. It is refreshing to see a journal that goes head-on in cultivating new approaches to publishing as well as making theory."

Gabriel Menotti, Universidade Federal do Espirito Santo

"After.Video is the perfect hybrid between digital publishing strategies and online video aesthetics. With the omnipresence of the moving image into all social media platform, the age of multi-media has finally arrived. Thanks to After.Video for pulling visual arts and academia into the 21 century!"

Geert Lovink, Institute of Network Cultures, Amsterdam.

"After.video stands out amidst a thick new field of video-based critical scholarship. Its interdisciplinary orientation, unique on- and offline platforms, and commitment to digital theorizing​ announces a fresh set of possibilities in media studies and critical theory…and it does so by maintaining the analytical rigor we expect from other forms of intellectual discourse. This project has set the agenda for the next generation of media-theory."

Joshua Neves, Director of the Global Emergent Media Lab, Concordia University​

"As Nam June Paik taught us, 'There is no rewind on the Betamax of life.' But as this condensation of images, sounds, and words teaches us, there might be a pause and a ff. The work's porosities invite us to pause and co-consider such forms of Betamax life as: the unfolding of sadness, and the revolutionary feminisms of errors. It also fast forwards to a flat horizon of communication, upon which video and words as thought-media mutually annotate and accuse. These global condensations of diverse entanglements spill out of the url, the VHS box, the pi, the pdf, the code, the pixel: amplifying current conditions of "the Betamax of life."

Dalida Maria Benfield, Ph.D. artist|researcher, Institute of (im)Possible Subjects +futuremaking.space

"The erudite post-punk polyphony of after.video disrupts and transforms our idea of what the 'video essay' might be. Faced with this proliferation of linkages and levels, all discourses of control - activist, artistic, or academic - are forced to recognise themselves for what they always were: mere ornaments on video's increasingly distended and outrageous body."

Peter Snowdon, filmmaker and researcher, Leiden University

"The after.video collective continue to push boundaries of conventional research output where written and visual come together in a hypermediated glitch-mash-up poking and prodding what does it mean to be a video producer and consumer today."

Larisa Blazic, Senior Lecturer, Graphic Communication Design, University of Westminster

Editor Bios

Dr. Pablo DeSoto is an architect and researcher, working at the intersection of architecture with digital media, the environmental humanities and the arts. In the 2000s he was cofounder hackitectura.net, a pioneer group of architects, computer specialists and activists. Pablo loves to make experimental books, such as Fadaiat: Freedom of Movement, Freedom of Knowledge or this one. He is currently affiliated researcher at Umeå School of Architecture in Sweden.

Adnan Hadzi is a UK-Swiss based researcher, filmmaker and artist. Adnan undertook his practice-based PhD on "FLOSSTV - Free, Libre, Open Source Software (FLOSS) within participatory 'TV hacking' Media and Arts Practices" at Goldsmiths, University of London. Adnan's research focuses on the influence of digitalisation in media art, as well as the author's rights in relation to collective authorship.

Laila Shereen Sakr, known by her moniker, VJ Um Amel, is an Egyptian-American digital media theorist and artist. She is the founder of the digital lab, R-Shief, Inc. Laila holds holds an M.F.A. in Digital Arts and New Media from University of California, Santa Cruz, an M.A. in Arab Studies from Georgetown University, and a PhD in Media Arts + Practice at the University of Southern California's School of Cinematic Arts.

Oliver Lerone Schultz is doing post-media research in transversal contexts. Oliver studied Philosophy, History of Science + ethnography in Berlin, extended by studies in Cognitive Science and Political Economy of Industrial Societies in Berkeley. Oliver was active in several media-activist projects + curational work, like laborB and globale-Filmfestival, among others. Until Recently at the Centre for Digital Cultures, where among other things he co-initiated the Post-Media Lab.